A big volumed ram with the potential to sire heavyweight lambs has given the Mitchell family, Rene stud, Culcairn, NSW, their second successive supreme White Suffolk exhibit title at the Australian Sheep & Wool Show.
From 124 entries from Victorian and NSW studs, Rene 036/18 was given the nod by SA judge Andrew Frick, Gypsum Hill stud, Padthaway.
He said he admired the length, muscling and tremendous volume of his senior and grand champion ram which elevated it to top spot ahead of the grand champion ewe exhibited by the Jorgensen family, Mertex stud, Antwerp.
"The [champion] ewe probably ranks in one of the better ewes I have seen but there is still room for her to improve, she's still a young ewe, whereas this is the ram's prime show," he said.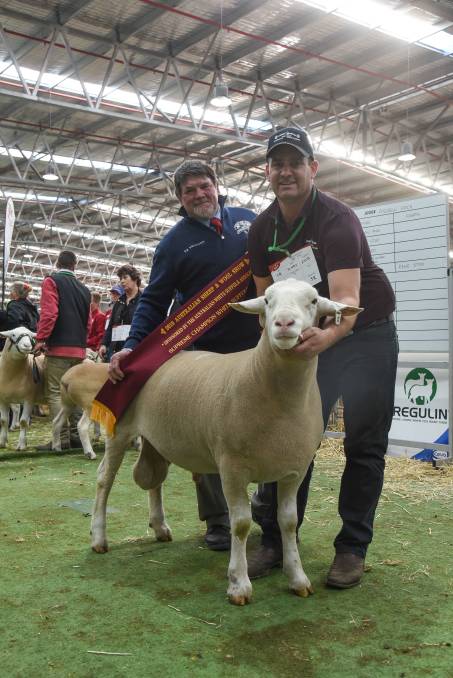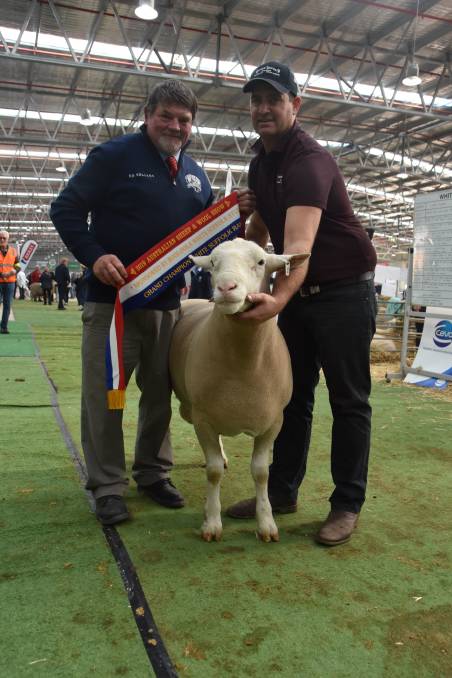 Stud co-principal Scott Mitchell said it was always a thrill to rise to the top of the big line-ups in the largest annual White Suffolk showing in the Southern Hemisphere with their broad ribbon tally also including reserve champion ewe and reserve junior champion ram. Mr Mitchell said their supreme exhibit had been a standout for its weight gain, putting on about 800 grams a day through February and March.
 "He is chock full of meat with a thick barrel but still smooth through the shoulders and his growth rate is outstanding," he said.
"And its topline for that length is impeccable." It was also the supreme interbreed exhibit at the Royal Canberra Show in February.
Rene 036/18 is earmarked to be offered for sale at the Bendigo Elite White Suffolk Show & Sale in September. Junior champion ram went to the Baker family, Booloola stud, Baringhup, with a July 2018 drop which Mr Frick said "ticked all the boxes". The 131kg son of Booloola 93 which had a 49mm EMD is also likely to go under the hammer later in the season. "A good older ram has beaten a good young ram," Mr Frick said. The supreme exhibit, which was a son of Sunnybanks 45, with an eye muscle depth of 52mm and fat depth of 14mm. Mr Frick said he was looking for sheep with structural soundness but also the "capacity" to breed heavier lambs to help meet insatiable demand for Australian lamb. "The ewe flock seems to be struggling to grow so the one area we can make inroads is the weight of lamb if the processors are willing to take more weight – our genetics need to have the capacity to do that," he said.
Subscribe
&

Receive A Free eBook
Responsive innovate grok latte disrupt intuitive actionable insight SpaceTeam grok. Human-centered design Steve Jobs.
We do not spam. You can unsubscribe anytime.