Charollais flock rams topped the Rene 2021 stud sale at $3800
Charollais rams stole the show again at the Mitchell family's Rene stud flock ram sale at Culcairn on Friday, with the top flock rams selling to $3800 and attracting a lot of competition in the shed and online.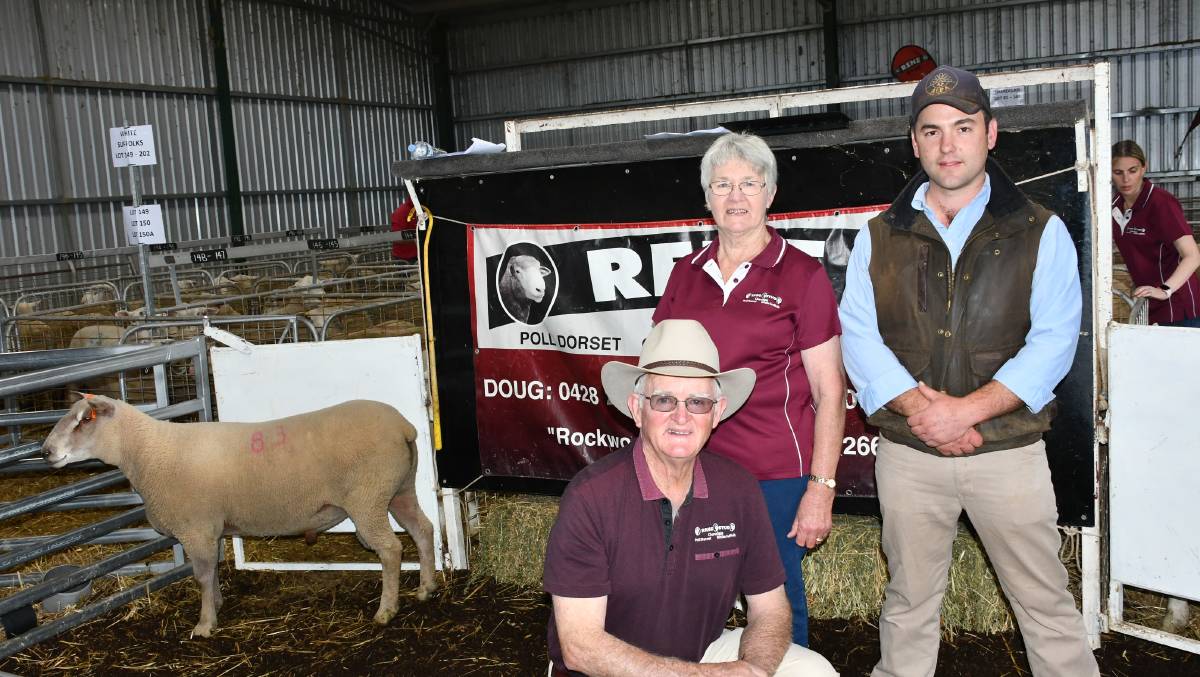 Rene stud principals Doug and Irene Mitchell, Culcairn, with top priced buyer Murray Bullen, David Hill Livestock, Wodong, an the $3800 top-priced Charollais ram.
The sale was strong, with all 68 Charollais rams that were offered selling to a top of $3800 to average a handsome $2206, while 61 of 77 Poll Dorset rams topped at $3000, averaging $1743, and 37 of 57 White Suffolk rams topped at $3000 to average $1450.
The top ram was bought by Murray Bullen, David Hill Livestock Agents, Wodonga for James Transport, Wodonga for $3800, who also bought another Charollais ram for $2400 and a White Suffolk at $2000.
The ram was a twin, June-drop ram by the sire, H2.17, and had a low a birth weight, strong carcase data and a eye muscle depth figure of +2.3.
It was the volume buyers though that put the floor in the flock market, with Joel and Darcy McCall, Daysdale, who bought seven Poll Dorset rams from the top end of the sale to average $2200.
Joel McCall said they were chasing rams with length and stretch, good structure, a good deep barrel and rams with high weaning rates to go over their 1300 old or cull Merino ewes to produce suckers.
"We run 2500 straight Merinos and 1300 old Merinos and cull Merino ewes that we join to Poll Dorset rams, with an aim to get the suckers off at 50 kilograms live weight," he said.
Mr McCall said they had sold 75 per cent of their suckers this year already and averaged $240.
Tyler Pendergast, Wagga Regional Livestock, Wagga Wagga, bought seven Charollais rams to $3000, averaging $2714, for Duxton Broadacre farms, Forbes.
Mr Pendergast said they loved the Charollais rams as they had plenty of shape and ability to turn suckers off quickly and early.
"We wanted the higher content percentage rams that were closer to purebreds as we find they performed best," he said.
Mr Pendergast said his clients had sold Charollais-cross lambs through the saleyards this year to highs of $303 at five to six months of age.
T.F. and M.J. Walsh, Bendigo, Victoria, bought seven Poll Dorset rams and five Charollais rams for a $1267 average and kept the rest of the market on their toes most of the day.
W. and W. Goode, Culcairn, bought six Poll Dorset and six Charollais rams for $1483 apiece, while G.P. Mazzochi, Morven, held up the White Suffolks, securing six at 41800 each, and Stephen Thompson, Dalveen, Qld, bought the four top Poll Dorset rams at $3000 each and two Charollais rams averaging $2500.
The Elite Livestock Auctions online platform played its part, with the Charollais draft attracting a lot of attention online. Robert Gibson, Hay, secured seven Charollais rams averaging $1971 and Darren Smith, Nutrien, Goondiwindi, Qld, bought five at $2533.