Culcairn, NSW, based stud, Rene, dominated the White Suffolk judging, winning both the grand champion ram and ewe at the Australian Sheep and Wool Show.
Tasmanian judge Chris Badcock, Fairburn stud, said it was a toss of a coin in his supreme deliberation between the two NSW sheep, but said the ewe was an "exceptional animal".
"She is a beautiful type. I love her overall balance and frame, beautiful neck extension and muscling, and being a shorn ewe it is all there to be seen," Mr Badcock said.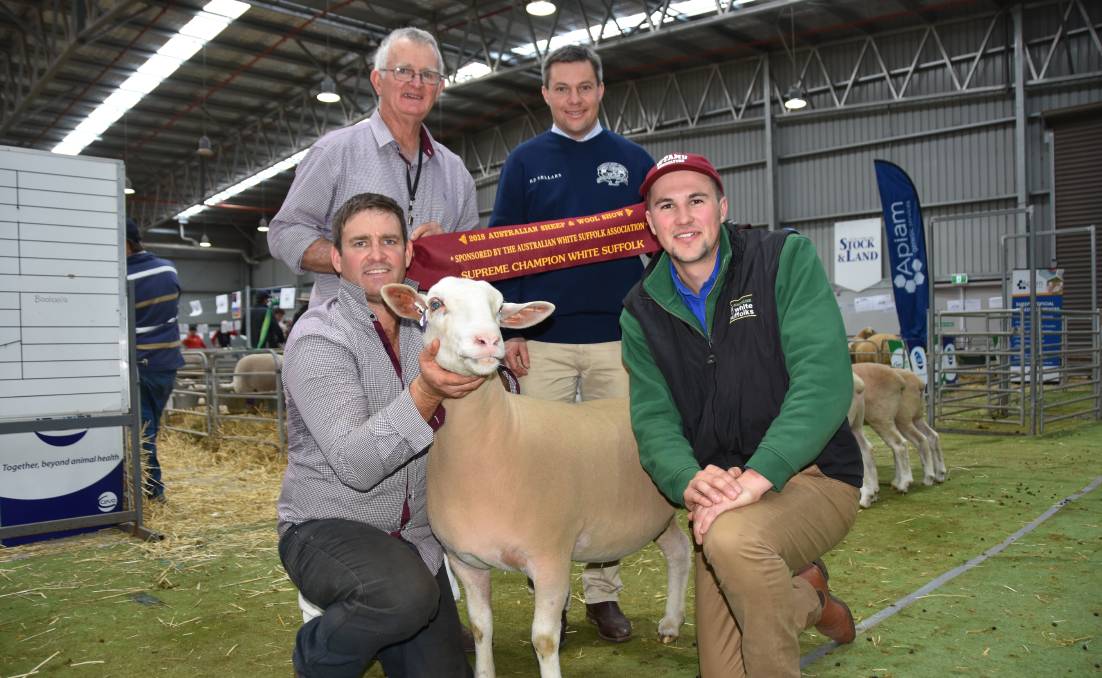 White Suffolk: Scott Mitchell, Rene stud, Culcairn, NSW, holds the supreme exhibit with Doug Mitchell, judge Chris Badcock, Tas, and Brendan Addis, WA.
Doug, Irene and Scott Mitchell's grand champion ram was also the senior champion ram, Rene 17-989.
The May 2017-drop son of Rene 251 came through from the woolly ram born after April class. It weighed 126 kilograms with an eye muscle depth of 52mm and fat depth of 12.5mm.
"To get that ram has been a five-year project getting the width of loin, width of hindquarters and muscling on outside of the leg to get extra meat," Scott Mitchell said. Mr Mitchell said it had been a great result, especially winning the group classes as well.
Mertex stud, Antwerp, were also among the broad ribbon winners with the junior champion ram and reserve senior champion ram. The June 2017-drop was a daughter of Sunnybanks 15/45, and weighed 92.5 kilograms with an eye muscle scan depth of 50 millimetres and fat depth of 12.5mm.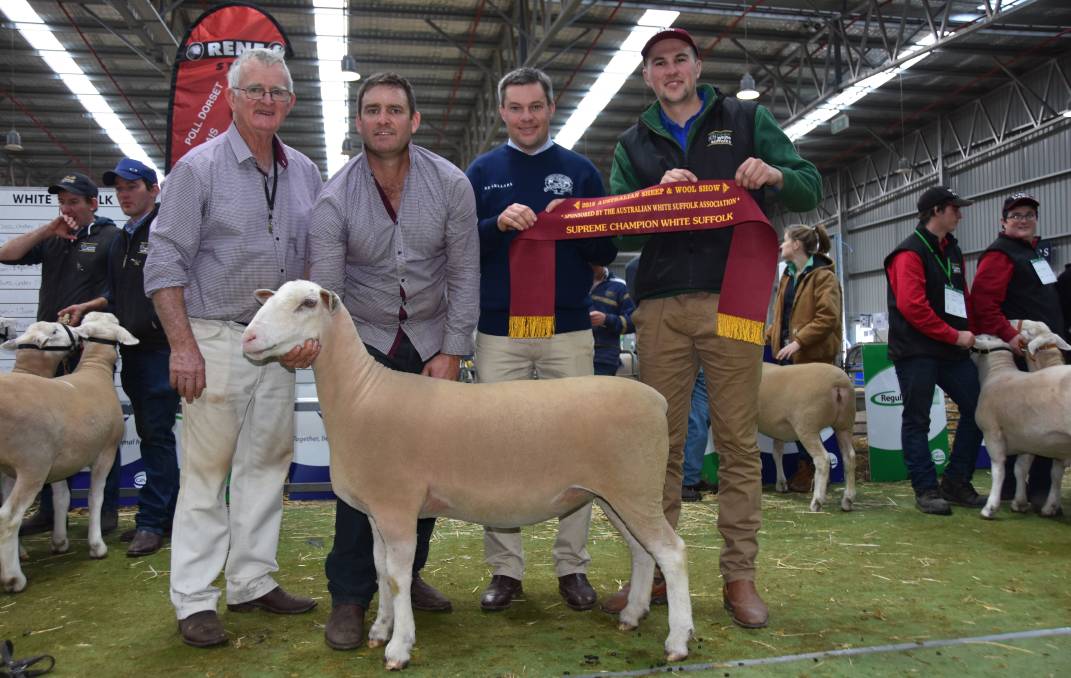 Supreme Champion White Suffolk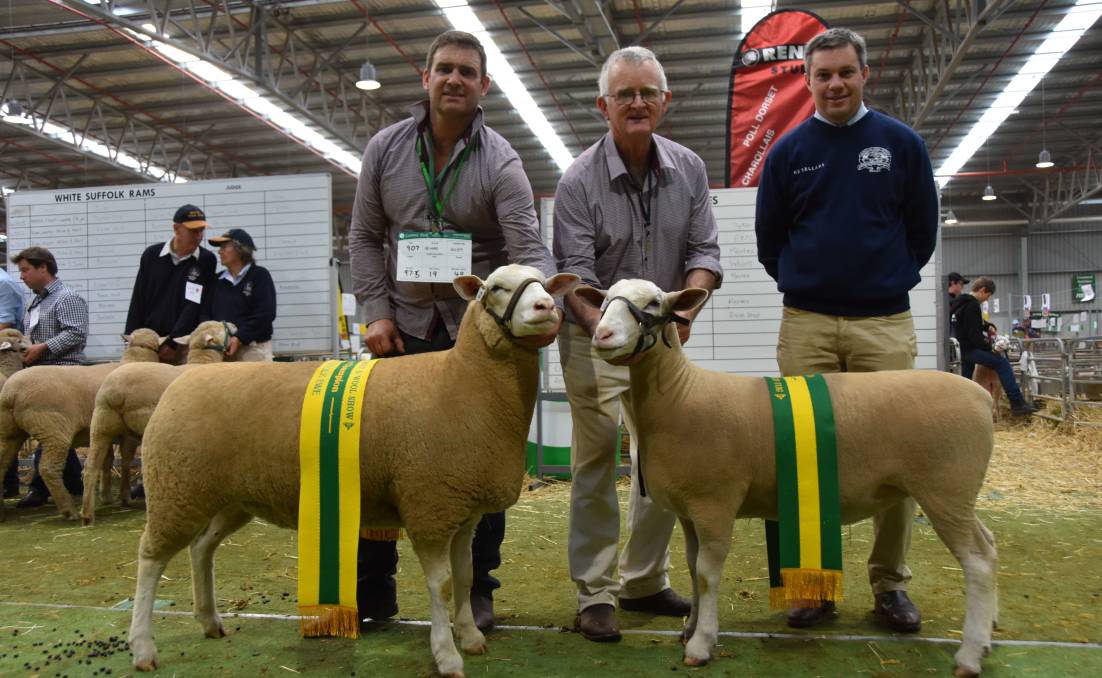 Grand Champion and Reserve Champion Ewes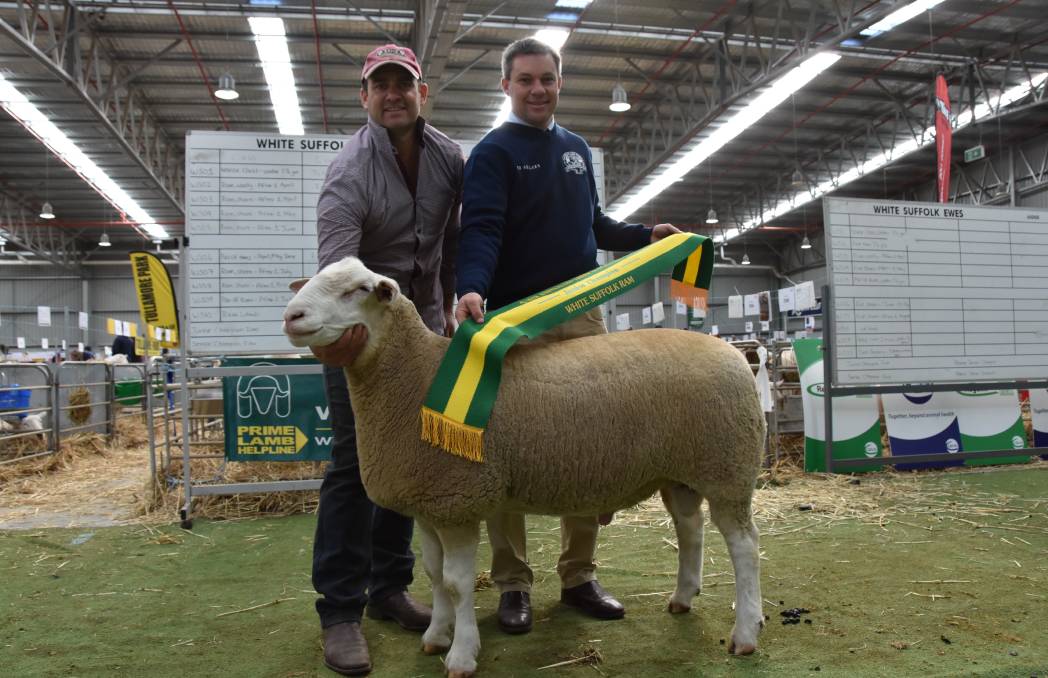 Senior and Grand Champion Ram

Subscribe
&

Receive A Free eBook
Responsive innovate grok latte disrupt intuitive actionable insight SpaceTeam grok. Human-centered design Steve Jobs.
We do not spam. You can unsubscribe anytime.