To our valid clients,
As you may remember here at Rene Stud we were conducting a trial using maiden merino ewes joined to Charollais Rams, due to their growing popularity especially with maiden ewes we thought we would see for ourselves how they would perform.
Our aim was to lamb maiden ewes out unassisted & take the lambs through to kill weight, and then finally see how they kill out at the abattoir & assess our results.
We have tagged the lambs with electronic tags so that we can accurately monitor their weight gains.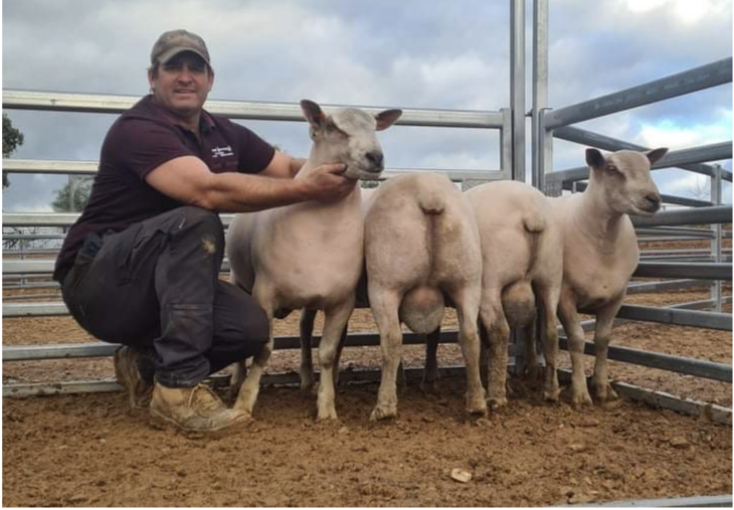 The details of the trial are below:
Purchased                                                              22/12/2019
Shorn                                                                      04/02/2020
Joined                                                                     31/03/2020
Shorn again                                                           12/08/2020
Number shorn                                                                    406
Started lambing                                                    26/08/2020
Marked and tagged bulk of the lambs                14/10/2020
Average weight at marking                                         17.6 kg
Number of lambs marked                                                 348
Number of ewes                                                                 403
Number of ewes lost                                                               3
Secondary Weigh & Drench of lambs 8 weeks after marking        07/12/2020   
Average weight                                  28.49kg
Average daily gain                            217grams per day
Weaning weight on Jan 18th                           
Average Weight                                  30.65kg
At 5 months old they were shorn and the wool went 21.4 micron.
Post Weaning weight on April 27th
Average Weight                                     49.90kg
Average daily gain overall                   160grams per day
LAMB TO CARCASSS TRIAL
At 7.5 months we separated the Ewe portion to keep for future breeders.
We weighed the wether portion of the lambs and 56kg + weight were sent to Wagga Wagga markets and sold for $202 per head.
Lambs weighing 48kg-56kg averaging 49.9kg were taken off all food & water for 24 hours and then re weighed. The average weight on the 28/04/2021 was 46.29. They were then taken to Tallangatta meats.
The carcass average weight was 25.22. Yielding out at an average of 54.49%
The skin value was split 30/31. 30 went as X-B skin @ $2.50 & 31 went as Merino skin @ $6.00
STAND OUT LAMB
Lamb 440 
Marking 14th October                     14.6kg
Weaning 18th January                    28.8kg
Post Weaning 27th April                49.4kg
Average daily gain                     160 grams
Curfew 28th April                                45kg
Carcass Weight 29th April               27.7kg
Yield                                                      61.6%

Bill Conroy from "Annievale" went along to Tallangatta meats with Rene Stud and commented on how impressive the Body Shape, Carcass & Yielding was on the lambs. He also said that he was surpised how well the skins came off & the quality of the skins. 
Bill is currently lambing out Charollais/Merino lambs and said "We are lambing out our Charollais/Merino lambs out of our finewool maiden Merino Ewes, the lambs are strong and healthy, there growth rate is huge and there fertility is like something I  havent seen before with many sets of twins." "I have left the Ewes alone while lambing and have yet not had to pull a lamb out" the quality of the meat is amazing too" Bill said
Will Smith from Tallangatta Meats commented when he saw the Carcass hanging up that he was very impressed with the shape in the hind legs and thickness of the carcass & he was surprised with the yield.
Both Will & his brother Ambrose (lamb buyer for Tallangatta meats) assessed the lambs before slaughter and didn't believe any would go over 25kg (averaging 25.22kg)
He was also very impressed with the skin type with 50% going through as Merino skin.