Stud Poll Dorset rams topped the annual Rene Poll Dorset, White Suffolk and Charrollais ram sale last Friday at $7000.
In the wrap, four of six Poll Dorset stud rams topped at $7000 and averaged $4250, three of six White Suffolk stud rams averaged $3333, while 40 of 66 Dorset flock rams averaged $963, 10 of 43 White Suffolk flock rams topped at $2000 averaged $1270 and 17 of 50 Charrollais rams averaged $859.
Henry and Karen Cameron, Athlone Poll Dorset stud, Penshurst, Vic, paid $7000 for the top ram and $3000 for a second stud sire.
Mr Cameron said he loved rams with meaty hindquarters, and the top ram had a post weaning weight (PWWT) of 12.8 and a Carcase Plus (CP) Index of 173.2, weighing 145kg.
(30 Sep 2018, The Land – link to original article)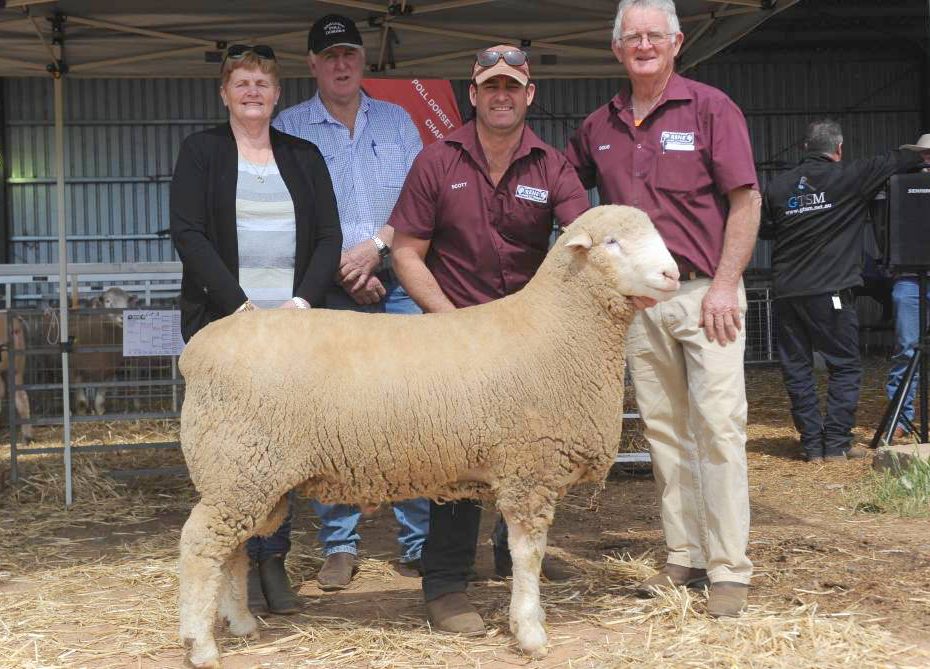 Henry and Karen Cameron, Athlone Poll Dorsets, Penshurst, Victoria, with Rene stud principals Scott and Doug Mitchell, Culcairn.
The top White Suffolk ram Rene 935.17 sold to first time buyers, Bryce and Simone Jones, Innesvale White Suffolk stud, Rand, for $4500, who chased him for the depth of hindquarter after seeing him at the recent Henty Field Days.
Mr Jones said the 150kg ram had great numbers to match the shape of the ram.
Leading the charge on the flock rams was S and Ferguson, Deepwater, who bought 14 Poll Dorset rams averaging $1036, while Oliver Mason, Elders Wangaratta, secured one Charrollais, six Poll Dorset and two White Suffolk rams to average $822, while GP Mazzochi, Morven topped the flocks buying four rams to $2000 tops.
The sale was conducted by Glasser Total Sales management with Michael Glasser as the auctioneer.
Subscribe
&

Receive A Free eBook
Responsive innovate grok latte disrupt intuitive actionable insight SpaceTeam grok. Human-centered design Steve Jobs.
We do not spam. You can unsubscribe anytime.